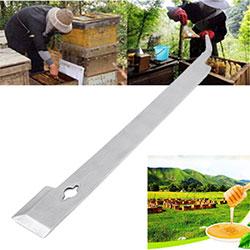 11 Inch Stainless Steel Beekeeper J Hook Beekeeping Hive Tool, Uncapping Knife with Hook
Description
The hive tool can be used for removing the lid to the hive, separating and cleaning the frames situated in the hive box that are filled with honey.
Specification:
Material: Stainless steel
Color: Silver
Length: Approx. 28 cm / 11inch
Features:
1.Best for separating hive boxes, prying out frames, and scraping wax and propolis off of your bee boxes and frames.
2.A very useful beekeeping equipment tool with a hanging hole.
3.Stainless steel material,anti-rust and easily to clean,simple design,easy to operate.
Package Included: 1 x Stainless steel bee hive tool