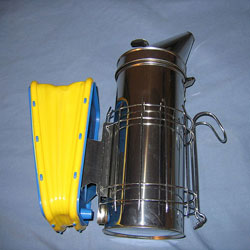 The practice of using smoke to calm a beehive is probably as old as the idea of robbing a bunch of stinging insects. However, no one really understood how it works until the 20th century and we still don't fully understand. Thanks to science, we do know that smoke covers a pheromone that the bees release when they are squished, or after they've stung something, called an alarm pheromone. This scent indicates danger and is a signal for the other bees to attack. Smoke hides this and also triggers a feeding response in the hive causing them to gorge themselves with honey in anticipation of abandoning their hive due to fire. Bees that have a full stomach have a hard time curving their abdomen into position to sting. Hence, smoke is still used today since it does make a difference in the bees attitude towards you.
A smoker is considered an essential part of beekeeping equipment these days and in order for it to work it must have some sort of fuel. Basically, there are two types of smoker fuel. There are commercially produced products and then there are natural fuels. Commercially available smoker fuels can be ordered from a beekeeping catalog or via the internet. Natural fuels are things you can usually find out in the yard. When you are looking for a fuel you want to find something that will produce smoke, not fire. This material should also be something that will burn slowly, at a low temperature, and will burn clean. (or not leave a bunch of suet on everything)
I have never used commercially available fuels simply because it's more cost efficient for me to use natural things. However, I have heard very good things about two fuels that you can buy. They are burlap and compressed cotton. People say that the smoke from these are fairly clean, it stays cool, lasts for quite a while, calms the bees, and doesn't smell too bad considering it is smoke. I have also heard that rolls of corrugated cardboard work well when made to fit your smoker. If I were to buy fuel at some point it would probably be one of these.
Backwards Beekeepers TV:
Smoker and Hive Basics
As far as "natural" fuels are concerned I am only referring to things you'll find outdoors that will burn. We live in an area with a lot of pine trees so I normally use dried pine needles for my smoker fuel. They don't always last as long as I need them to but they are very abundant and readily available. That makes it easy for me to just add a little more before the smoker goes out. Leaves will work if that's what you have but, not oak leaves. Oak leaves have a tendency to aggravate the bees more than calm them. Maple, Sycamore, and hickory will work though. Leaves burn a little hot if you don't continually add more and will catch fire if you're not careful. They're really not the best fuel but, like I said, they'll work if that's what you have. I've heard that straw or hay works as well but also tends to catch fire. Wood chips have also worked well in our experiences, primarily hickory chips, and of course they were combined with pine needles.
Most beekeepers just try using what they have available and, if it works, continue to use that. Be mindful of certain things, like treated wood, or other substances that would contain chemicals which could be released in the smoke and harm your bees. There are as many options for smoker fuels as there are beekeepers. You're sure to find your own unique combination of fuels to suit your fancy so, just keep trying things until you find one that works for you.